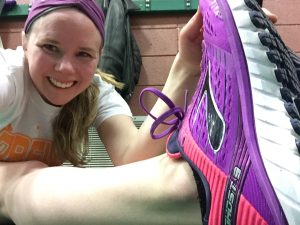 I believe that SAD (Seasonal Affective Disorder) is a real thing. January has always been a tough month for me to stay upbeat and energetic. It happens every year but this year I'm trying harder to beat it. Getting out of the house to run three times a week definitely helps me to stay positive and feel better. It's not a perfect cure obviously, but there is a noticeable difference.
Yesterday I ran my first 2 mile length for my training. It felt pretty good. Vogel Arena, where I run, was packed full of people donating blood for the Red Cross. I laughed as I saw the free beer being handed to those who donated. I remember when Dad and I donated together once and Dad enjoyed a Schell's and I enjoyed some 1919. Ah, New Ulm.
Another way to beat SAD is to laugh. Sounds simple. Last night I went to a surprise birthday party where we had to dress like we were in a beauty pageant, or Miss Middle Aged Pageant. Even though I didn't feel like going out on a windy night after the kids were down, I'm so glad I did. I was able to laugh so hard all night long. Although I'm a bit more tired today because of my night out, it was worth it just to have some more memories to smile about this month.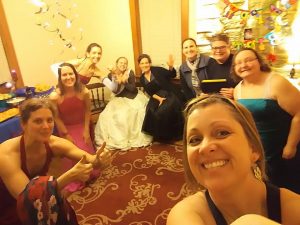 So my unprofessional advice today is to try to be active a few times a week and also to laugh as much as you can. Also, coffee. Coffee is always good.
Yes, I am wearing my wedding dress and yes, I wont the Best Dress Award. 🙂