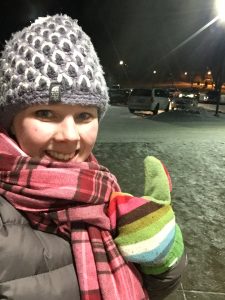 Other than this being one of my favorite JT songs, which happened to play during my run,  I do have a feeling that this will be a good thing.
I did not sleep well last night. Besides being up with the baby three times, I didn't sleep well because I was worrying about this new adventure. I kept wondering what I got myself into and if it was worth it. I even dreamed about not waking up in time for my run. When I got the baby back to sleep around 4:30am, I just stayed awake and got ready for my run.
However, as soon as I stepped outside and into the cold, I got excited. It was so peaceful and quiet and I felt motivated. My run went great. It went so much better than the previous one. I already felt stronger so I upped my pace for the last two minutes. I finished my run feeling on top of the world.
I love the runner's high. It's such a great feeling. Now if only that feeling lasted longer than an hour after my run. Sadly, my high came crashing down and I felt the effects of the night before. Ah well, at least my workout is done for the day and there's always the hope that tonight will be more restful.
See you on Monday!
*I did not run outside even though the picture shows me outside.