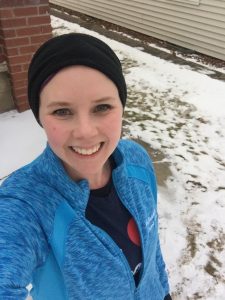 The honeymoon phase is over. The excitement about signing up for my first half marathon has worn off and now I find myself with an intense running schedule and not-as-motivated attitude.
Doubt crept in this week. At some moments it crept in and made itself at home. I second guessed this decision. I wondered if I was physically capable to handle this training. I wondered if I was being selfish by wanting to accomplish this goal. I almost looked up if I'd be able to get a refund from the race.
It's probably no surprise that when doubt creeps in to one are of your life, it often barges into other areas as well. Thankfully though, a few things pulled me out of my "down in the dumps" attitude.
First and foremost, I picked up that little devotion book that sits right in my living room. You know, the one that is in plain sight and only takes two minutes to read? The one that I've ignored for more than a few days? Today's devotion reminded me that God carries me through life's challenges.
Second, my ever loving husband wouldn't let me give up. He made sure I got time today to get my run in. He encouraged me and he was also just there to listen as I vented my frustrations to him. I can't say enough about how much he helps me.
Lastly, the weather. We had a January thaw today as it hit 42 degrees. I laced up and ran outside. After training on a treadmill for the past few weeks, this run was a dream! Living through MN winters, you really can forget what it's like to be outside other than the freezing seconds it takes to buckle your child into their car seat. Running outside today felt amazing.
So while this week had some challenges and doubts (okay, lots of doubts) I was reminded to run the hills. God will carry me through, and He'll do it through some pretty wonderful blessings.